Team 2010
Pleased to announce our 2010 Roster
Team 2011
Pleased to announce our 2011 Roster
2010 TEAM ROSTER
Team Alliance.
---
Blake Moore
Forward, London Jr. Knights, 5'6, 105 lbs
Blake is looking forward to playing in the Best of the Best series. He enjoys baseball, golf and snowboarding when not playing hockey.
Keagan McMahon
Forward, Waterloo Wolves, 5'1, 101 lbs
Keagan is the second oldest of five children. He enjoys playing baseball in the offseason for the Stratford Nationals. Keagan would like to pursue a career in the NHL or become a graphic designer.
Emma Bovin
Forward, London Devilettes, 5'4, 115 lbs
Emma is a great two way player. She has silky smooth hands and definitely a rocket of a shot that helps her find the back of the net most nights. Emma's desire to backcheck is relentless, and really is something to see. Emma also plays competive soccer. She loves staying hockey fit and really enjoys all aspects of hockey.
Finley Butler
Forward, London Jr. Knights, 5'5, 107 lbs
Finley's favourite thing to do is play hockey with his buddies. When he doesn't have a hockey stick in his hands it's usually replaced with a lacrosse stick. He is looking forward to competing and working hard with his teammates to make Alliance the best of the best.
Alex Brereton
Forward, London Jr. Knights, 4'9, 85 lbs
Alex loves playing hockey and baseball. His favourite hockey team is the Montreal Canadians, favourite player is Nick Suzuki. His favourite food is Shrimp PadThai. He likes to hang out with his family and friends.
Gavin Martin
Forward, Brantford 99ers (09), 5'4, 123 lbs
Since his first Toronto Maple Leafs game to hours spent on the outdoor rinks with friends Gavin was hooked on hockey !! The best part of hockey is ALL the friends you meet and play with! He loves competition but he loves all the before and after the game time too with friends! Gavin has had the honour of attending The Hill Academy for Grade 5 and 6 to explore all the off-ice components of being a student athlete. His favourite memory of hockey is playing last summer at the West Edmonton Mall which is such a cool rink and trading jerseys with a new friend from Team Manitoba.
Drew Bate
Forward, Elgin Middlesex Chiefs, 5'0, 99 lbs
Drew is a gritty and fast two way player that loves the game of hockey. Drew also enjoys playing competitive baseball in the off season as well as golf and basketball.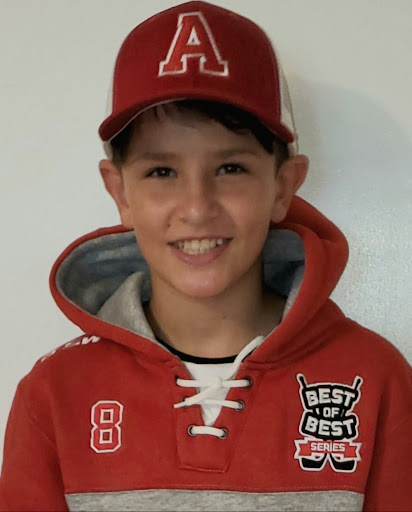 Ivan Deeb
Forward, Cambridge Hawks, 5'2, 100 lbs
Ivan is excited to have another opportunity to represent Team Alliance. Ivan loves all things hockey and lacrosse and he enjoys camping and being outdoors.
Matt Zilinski
Forward, Cambridge Hawks (09), 4'11, 86 lbs
Matty plays a year up for the Cambridge Hawks 09 AAA. Loves all sports, this past year really took a love to golf. Loves Animals and loves spending time with his buddies on his ODR! Matty also played for the Pro Hockey Brick Team.
Caleb Dann
Defense, London Jr. Knights, 5'2, 101 lbs
Caleb Dann is a left D-man for the London Jr. knights. He was born in Muskoka and enjoys hockey, boating, water sports, camping, golf and hanging with his friends.
Alexander Hawkeswood
Defense, Sun County Panthers, 4'11, 91 lbs
Alexander loves playing hockey, waterskiing, watching Formula One, playing golf and hanging out with friends and family.
Cohen Chamberlain
Defense, London Jr. Knights, 5'1, 95 lbs
Cohen is a defensemen who can be relied upon in the defensive and offensive zone. He is passionate and pushes himself to be the hardest working player on the ice. He strives to be a leader on his team. His favourite player is Moritz Seider from the Detroit Red Wings.
Ryan Beaulieu
Defense, London Jr. Knights, 5'2, 107 lbs
Ryan has loved playing hockey since the day he could hold a stick and works hard for his teammates every time he hits the ice. When he isn't playing puck he loves fishing, camping, exploring, playing soccer and hanging with his friends + brother, Tyler.
Turner Stephenson
Defense, Brantford 99ers, 5'7, 115 lbs
In his off-season Turner is also a fastball pitcher for the Innerkip Eagles and loves to fish.
John Montanino
Defense, Lambton Jr. Sting, 5'5, 130 lbs
John is a big fan of his hometown OHL Sarnia Sting. His favourite hockey player is Owen Power of Michigan Wolverines. He has spent the past two winters playing hockey on the frozen pond in his backyard.
Valentino Gonzalez
Goalie, London Jr. Knights, 5'2, 120 lbs
Valentino enjoys the challenge and responsibility of being a goaltender. He models his play after his favorite goalie, Andrei Vasilevskiy. His favorite team is the Boston Bruins.
Thijs VanHaeren
Goalie, Brantford 99ers, 5'2, 111 lbs
Thijs has been a goaltender for 4 years. He's a big Formula 1 and Max Verstappen fan. When he's not playing hockey or soccer he likes swimming, fishing, and mountain biking.